This site highlights petroleum reduction and sustainable transportation solutions on the I-5/Hwy 99 corridor from British Columbia, Canada to Baja California, Mexico "BC to BC." The multi-state effort aims to promote high-efficiency and cleaner fuel vehicles including Compressed Natural Gas (CNG), Biodiesel, Hydrogen Fuel Cell, and Plug-In Electric Vehicles.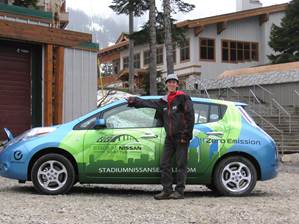 EV Road Trips Spark New Adventure
Drivers are now experiencing the scenic Pacific Northwest in their electric cars. Popular tourist destinations are becoming "EV-friendly" by installing charging equipment. At Stevens Pass Ski Resort, drivers can plug in and charge up while skiing or snowboarding. See the new section of this site to read stories about interesting EV Road Trips.