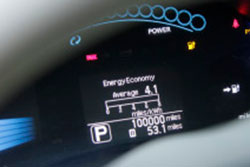 Nissan LEAF Owner Turns 100,000 Gas-Free Commuting Miles
Steve Marsh of Kent, Washington celebrates a unique milestone – 100,000 all-electric miles driven in his 2011 Nissan LEAF! See photos. Watch video.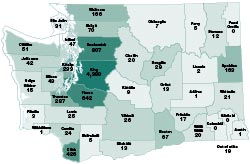 Nearly 8,000 Electric Vehicles in Washington
Washington roads are now home to 5,371 all-electric vehicles and 2,525 plug-in hybrid electric vehicles for a total of nearly 8,000 Plug-In EVs registered in Washington! See map showing number of registered PEVs by county. (pdf, 477kb)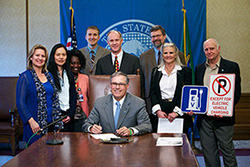 Governor Inslee helps clear the path for EV charging
Governor Inslee signs the "de-ICEing bill" SB 5849 into Washington state law. Electric vehicle charging stations must be clearly marked and drivers who block the space without plugging in could receive a $124 fine. Learn more about EV signs.