This site highlights petroleum reduction and sustainable transportation solutions on the I-5/Hwy 99 corridor from British Columbia, Canada to Baja California, Mexico "BC to BC." The multi-state effort aims to promote high-efficiency and cleaner fuel vehicles including Compressed Natural Gas (CNG), Biodiesel, Hydrogen Fuel Cell, and Plug-In Electric Vehicles.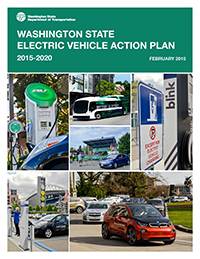 Washington Aims for 50,000 PEVs by 2020.
Across the country, states are developing plans to increase the number and use of electric vehicles. On the West Coast, the California 2013 ZEV Action Plan provides a roadmap toward 1.5 million zero-emission vehicles on California roadways by 2025, the Multi-State ZEV Action Plan highlights the EV collaboration among 8 states including Oregon, and the Washington State EV Action Plan outlines Washington state's strategies to meet its goal of 50,000 plug-in electric vehicles by 2020. Read Washington's EV Action Plan.